Many of you are keeping your eyes on the oven these days, from where the "sarmale" are smiling and promising a few days to share the meal with friends or family. Sarma (pl. sarmale) are a dosh usually consisting of meat and rice rolled in cabbage (sauerkraut) or vine leaves. And yes, we know that each family has their own recipe, which makes it almost impossible to find a universal pairing – although you will keep hearing on TV that no wire slides well down the throat without a glass of black Feteasca. It's not wrong, but there are too many aspects to take into account – how much cream, how much chili, how much fat, how much meat and what kind…
So we took heart in our teeth, we summoned our friend Cosmin Dragomir, founder of Gastroart.ro, author of gastronomy books and the one who has been dealing with the inventory of sarmale for quite a few years – not only in history, but also across the world – to identify the recipes that could be considered traditional for each historical region. So we could suggest the appropriate wines, considering a few details.
As rules of thumb, you only need to remember a few things:
the more sour cream you use, the more you need a white wine. With a lots of cream – a crisp and acidic white, not one aged in oak barrels;

The more hot peppers / paprika you use, the greater the need for an off- dry wine (semi-sweet or even semi-dry, to cover the spiciness);

Sauerkraut requires roses and reds, white and rose wines go better with meat rolled in vine leaves.
When we think of Transylvania, cabbage, meat and sour cream, before sarmale, the famous varza a la Cluj (Cluj cabbage) comes to mind – also called the lay man's sarma or, according to neo-gourmets – deconstructed sarma.
That doesn't mean that there isn't a type of sarmale that can be considered traditional Transylvanian – chubby sarmale, big as a grown man's fist, with more fat than the rest of the country and, almost obligatory, with a bit of smoked meat or fat. And, because the local food goes well with the local wine, we recommend Young Easy Red or Feteasca Neagra from Liliac, if you like more smoky and less fatty sarmales, and a Mysterium rose from Jidvei for those with less smokey flavours and more fat. If you exaggerate with the sour cream – a Feteasca regala 1784 from Crama Telna might fit in very well.
Moldavian sarmales raise a dilemma – they are often wrapped in vine leaves, have less fat than those from Transylvania, but also use with a little more sour cream. In this version, you should us a fresh white wine, and a Zghihara Spectrum* from Domeniile Averesti seems ideal. If you use less cream, some roses are also suitable, and if you wrap them in sauerkraut, the ideal is to go for a Babeasca neagra (rose or red) or a Feteasca neagra, but one as fresh as possible. Reveria rose from Strunga or Pandora Secrets – Feteasca neagra 2021 will honourably fulfil their duty!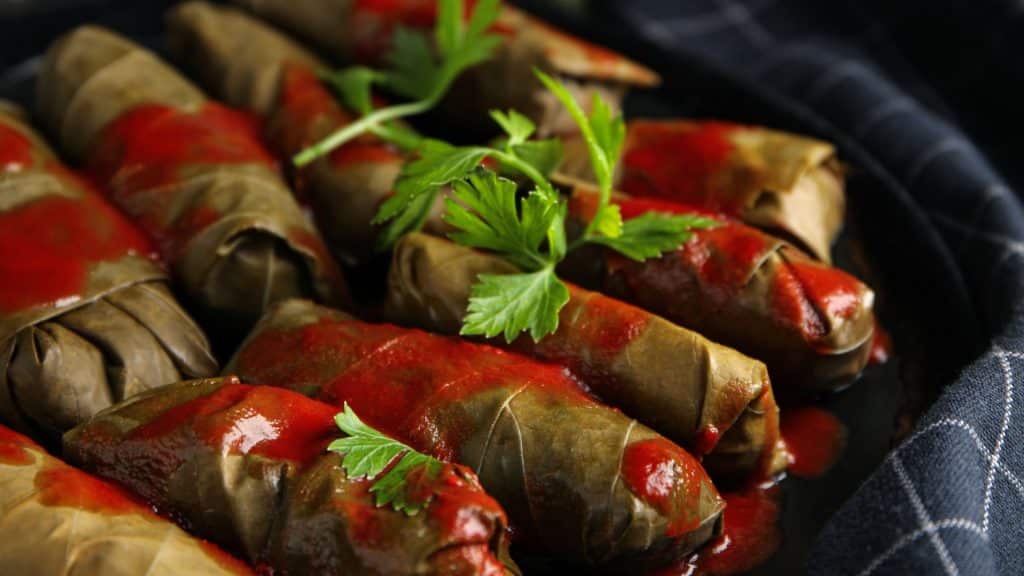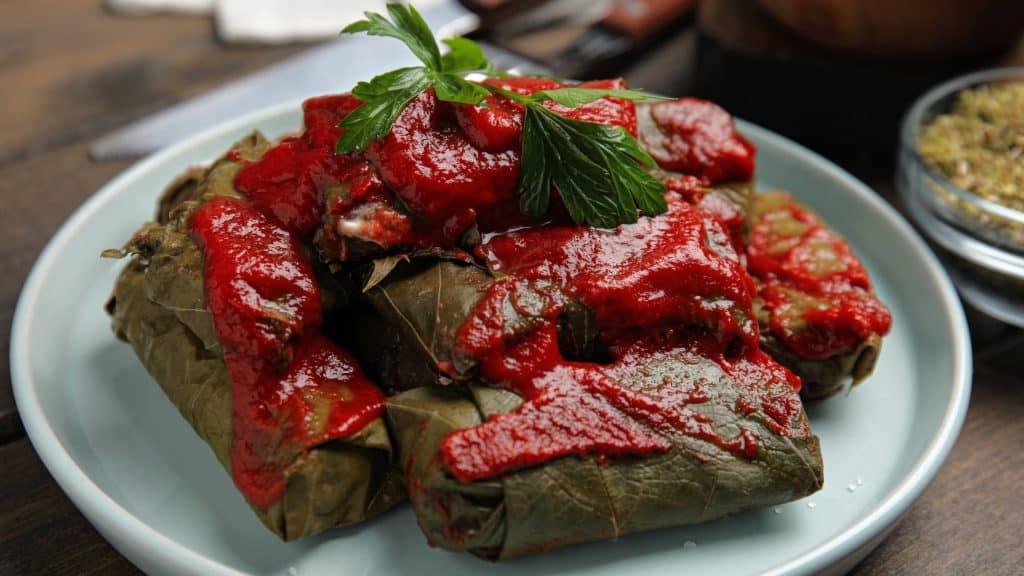 If there is one recipe for sarmale that cannot be paired with a (single) wine, it is definitely that of the "nested" sarmale nest – five rolls with different fillings, wrapped together in a cabbage leaf. Lamb, pork, beef, duck or chicken, mushrooms – each has their own recipe, but the differences in taste, which make this kind of food a gourmet delight, make it almost impossible to choose a single wine.
We would lean towards an intense black Feteasca, which can face all challenges, such as Feteasca black Barrique 2020 from Strunga or a Diamond Junior 2019 from Domeniile Averesti, aged for 24 months in oak barrels. For those who don't necessarily follow the "local wine with local food" rule, maybe a Dragasani Black from Mennini or Avincis would be suited just as well…
Located at the intersection of Moldova, Dobrogea and Oltenia, Muntenia has influences from all three regions, and the diversity of sarmale recipes is difficult to even evaluate. We learned, however, about a specialty, less often cooked today, but as traditional as possible – duck stuffed with sarmale.
Obviously, he pairing here must be done with the dominant ingredient, which is duck, so you can choose almost any good red wine from Dealu Mare – Trei fete negre from Aurelia Visinescu, Negru de Dragasani from Vitis Metamorfosis, and even a Petit Matei from at Prince Matei Estates, not to mention Feteasca neagra Apogeum (the only vineyard 100% dedicated to this variety), the newly launched Feteasca neagra Sonorum from Gramofon Wine, the Burgundian style Vigneron range from the Franco-Roman Domains or the fresh Siel from Tohani. Or, if you feel like pampering yourself or really want to impress your guests, a Cuvee Alexandru or Cuvee Guy de Poix from SERVE… except that they go just as well without food!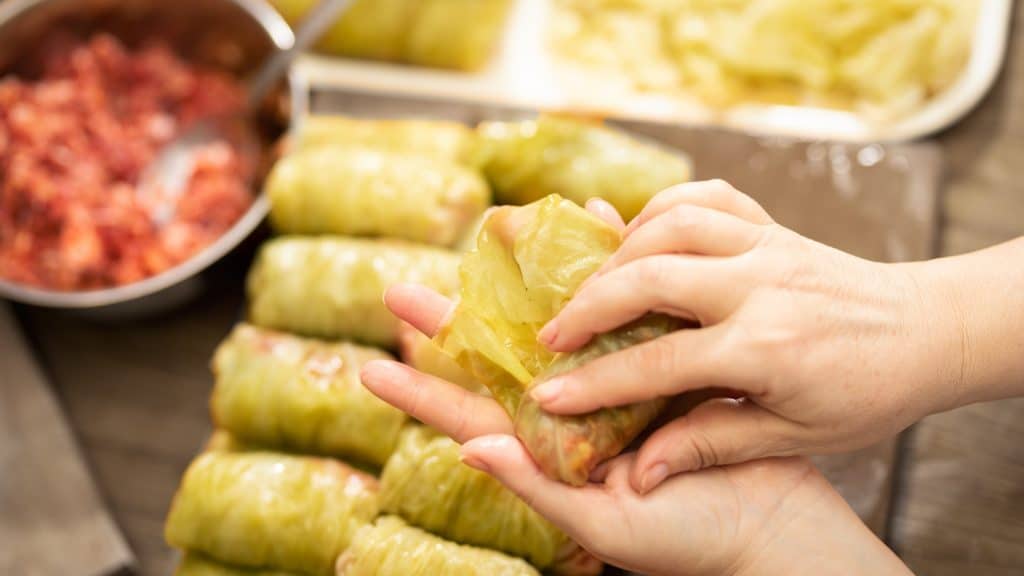 In Dobrogea, mutton and ram meat take the first place, but the most impressive sarmale recipe is probably that of fish sarmale with lovage (Levisticum officinale). A terribly smooth and complex taste – those who had the opportunity to taste it will never forget it. To meet the vegetal notes of lovage, it would be hard to find a more inspired pairing than Aligote Caii from Letea* or even the limited edition Princeps. Or Free Zante Aligote, also from Sarica Niculitel, if you can still find it, but there is a small problem we already wrote about before – it disappears very quickly from the glass, so you may want to prepare several bottles.
The South is also home of more and more diverse recipes. The sarmale soup seems to be the most widespread – the traditional sarmale, beef or pork, but prepared in much more juice than in other parts, and this aspect amplifies, in total, the acidic and salty sensations. A Corcova rose (Merlot, Cabernet, Syrah) or a Cramposie selectionata (Amfiteatru for off-dry or Olt de Vie* for a dry version) from Avincis should happily complete this recipe.
But also in Oltenia we can also find sarmale baked in pumpkin and sarmales in which, instead of rice, crushed pumpkin seeds are used. In this case, you can go for a more mature, well-rounded Feteasca regala (such as Marama from Domeniul Coroanei Segarcea) or, as oppositely, for a cheerful but elegant sparkling, like that from Avincis.
Sarmale with potatoes from South Banat are as rare as they are tasty. They are no longer found in many places, but if you come across them (or cook them), we strongly recommend a sparkling wine produced by the classical method from Balla Geza (Clarus) or a Bendis Nadir from Petro Vaselo (to choose a wine from Banat ). For traditional sarmale, however, feel free to get a Burgund mare from the Zodiac range, made by Crama Dealu Dorului, slightly rustic, but very expressive. If you use a lot of sour cream, you can also rinse the taste buds with a Mustoasa de Maderat from Maxi Marc*.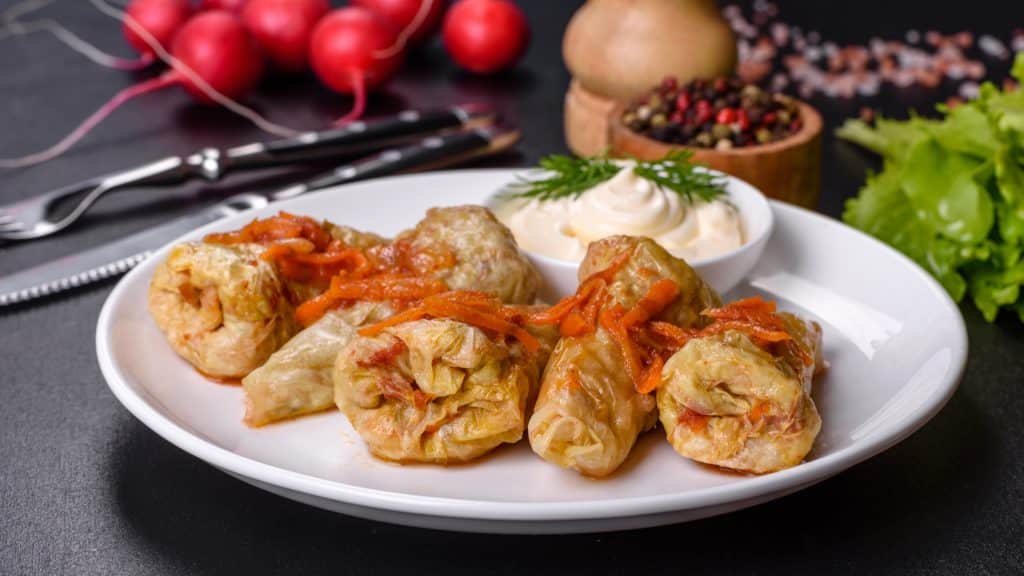 The north of the country is synonymous with smoked meat and a lot of cream. So, if you have it at hand, don't shy away from a glass of horinca, the local traditional fruit spirit… But our mission is to recommend wines, so we suggest you go for something fresher and rougher, with tannins still kicking in. Try a black Feteasca neagra from Dorvena, a fresh Cadarca from Balla Geza or a Cabernet Sauvignon Joseph from Pivnitele Birauas.
Over the course of the year, sarmals are wrapped in all conceivable leaves, from stevia and lovage to raspberry. It's not the season, so we'll discuss them some other time. On the other hand, there are more spectacular local recipes, which deserve to be discovered.
Fasting sarmale, without meat and with a lot of rice and mushrooms, pair well with fresh, lively wines, with green or mineral accents. Confidently choose local white varieties – Mustoasa, Zghihara, Cramposie or even Feteasca alba.

Fresh unsalted cheese sarmale, with or without raisins, require an aromatic wine: a Busuioaca de Bohotin, a Tamaioasa roza or a Tamaioasa romaneasca.

pork sarmales with thick corn grindings from the Salaj – Zalau area require a not very intense rose, if you have a fresh one from Feteasca neagra or Cadarca available, it will definitely suit.

On the shores of the Black Sea, here and there, they make ropes with sea snails. Relax with a classic sparkling wine or prosecco style white, a Sauvignon Blanc or a Sarba.

Sarmale boiled in white wine almost make a requirement out of a Grasa de Cotnari (I heard good things about Naiv from Casa de Vinuri Cotnari, but you can also find), a Traminer Nativus from Averesti or a semi-dry, semi-sweet or even sweet Tamaioasa romaneasca – find them all the options at Aurelia Visinescu (ever tasted Distinct*?)
Nota: The brands marked (*) are part of Carrefour Romania's national program Deschidem Vinul Romanesc / We Open the Romanian Wine.