One of the few contests dedicated exclusively to the wines created especially for the HoReCA market, Vin la Munte, has designated today its winners. Most gold medals and large gold medals went to small producers, denoting a clear market trend towards quality wines.
The jury awarded a total of 107 medals, of which 8 major gold medals and 22 gold medals. The score was calculated according to the tasting sheets of the International Organization of Vine and Wine, and the thresholds for the tiebreaker were 82-88 points (silver), 88-92 points (gold) and 92-100 (grand gold medal).
""It is a contest from which we all win – producers, distributors, restaurants – but especially wine lovers and enthusiasts win", said Daniel Bichir, the organizer of the contest. "Being a contest oriented towards HoReCa, all the registered samples were wines that deserve their place in the menu of restaurants, wines that can accompany people in their good moments, in which they share a few minutes or hours of silence with their close ones. Therefore, it cannot surprise the relatively large number of medals – all our partners have scored tests to represent their peak of performance, which proves that they have chosen the path to quality. Moreover, the high number of small wineries that have obtained excellent results clearly demonstrates the level of competitiveness reached by the wines from Romania and the Republic of Moldova. Wineries such as Pripa, Sescu, Valeaeden or Pandora, almost unknown to the public until recently, or wineries that have evolved enormously in recent years, such as Bolgiu, Ciumbrud, Gabai or Paolo Mennini, work today at the same level of quality as well-known names in Romania or even in Europe, and this fact is, from my point of view, an occasion for celebration. I just hope that next year's contest will bring us as many surprises".
The Wine in the Mountains Festival, where all the awarded wines can be tasted, takes place this weekend in Brasov.
The list of Medals Come to the Mountain 2022:
Mari medalii de aur
Maja 2016 Montepulciano d'Abruzzo – 95,5 p
Pripa Feteasca Neagra 2018 – 94 p
Feudo Croce Imperio LXXXIV Primitivo di Manduria – 94 p
Hafner TBA Essencia 2015 – 93,5 p
Ciumbrud Sauvignon Blanc 2021 92 p
Paolo Mennini Negru De Dragasani 2018 – 92 p
Anno Sauvignon Blanc 2021
Cuvee Pandora 2019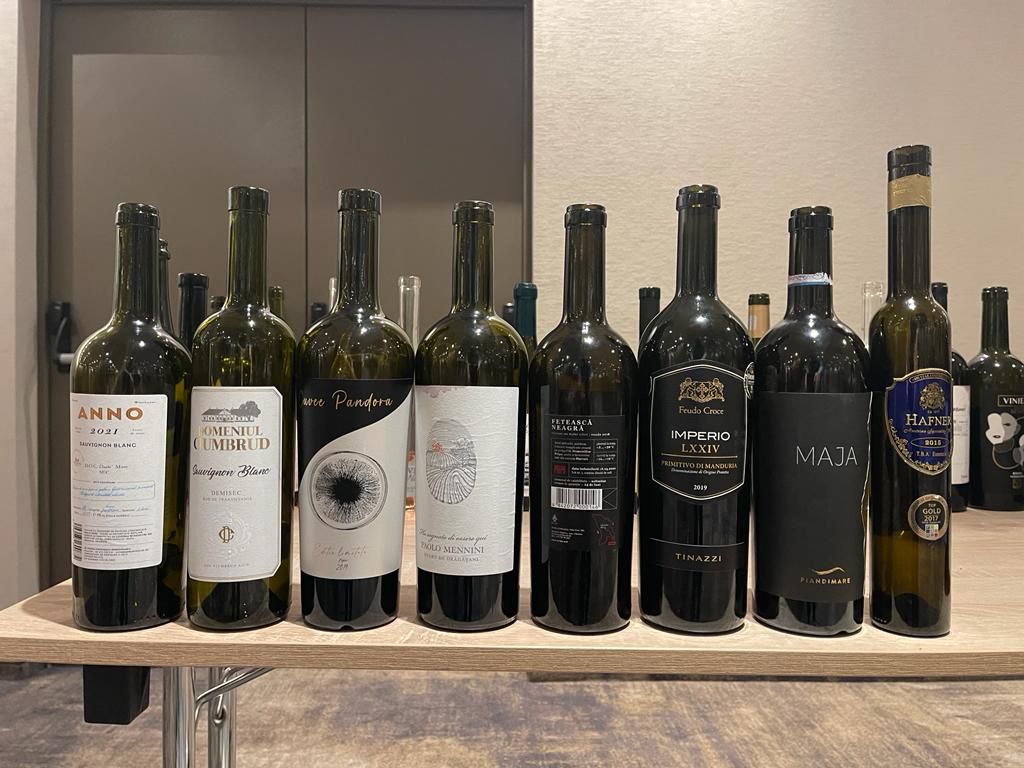 Medalii de aur
Crama Andronic Merlot 2020
Hafner Otto the sweet blue MusthaveaMusCAT, 2020 Austria
DFR Vigneron Pinot Noir 2018
Eneo Susuamaro Negroamaro Cantine Risveglio
Valeaeden, Tirol, 2020 SB
Pivnita Savu SB 21 Handpicked Special Selection
Crama Bolgiu Chardonnay 2018
Crama Ratesti Sauvignon Blanc 2021
Pandora Secrets SB 2021
Regina Istritei Tamaioasa Romaneasca 2009, dulce
Liliac Unexpected 2.0
Crama Strunga Reveria Feteasca Neagra rose 2021
Nativa Rose de Averesti, Merlot 2021
Chateau Cristi Politika Pinot Noir Candidat
Dorvena Pinot Noir 2018 DOP Minis
Liliac Pinot Noir 2018 Private Selection
Viniera Domeniile Sescu Mariaj 2020, CS FN
Liliac Very Vienna Sauvignon Blanc 2020
Golden Muscat 2020 Lechburg
Cote Blanche Le Brun de Neuvil Blanc de Blancs Chardonnay, 6 ani pe drojdii, 2015
Colocviu La Paris Busuioaca de Bohotin Casa de Vinuri Cotnari
Euforia Busuioaca de Bohotin demisec Casa de Vinuri Cotnari 2021
Nedeea Vinarte 2019
The Federalist Zinfandel 2016
Terrazas de los Andes Malbec 2019 Mendoza
Pripa Saperavi 2018
Chateau Cristi Cuvee Rouge Royal 2016
Tenuta Romana Soliditas IGT 2019
Gramofon Wine Chardonnay 2019
Medalii de argint
X+Y Apus Busuioaca + Traminer Roz 2021
Miraz Roze Crama Gabai CS FN PN 2021
Sesto 21 SB IGT Lazio 2020
Gabai Muscat Ottonel 2021
Strunga Winery Feteasca Neagra 2020
Alcovin SRL, Traditia Regala Feteasca Neagra, Syrah
Viniera Domeniile Sescu Pinot Noir 2020
Domini Veneti Lugana Bianco 2020
Crama Andronic Cabernet Franc 2020
Strunga Winery Feteasca Alba 2021
Domini Veneti Rosso Veneto Apassimento 2020
Domeniul Ciumbrud, Roza De Ciumbrud 2020
Liliac Feteasca Regala 202 Lechinta
Domaine de Petit Clocher 2020 Anjou Blanc
Domeniul Aristitei Vizionar Chardonnay Rezerva 2020
Domeniul Ciumbrud Traminer alb Rod de Transilvania 2021
El Sauceral El Furtivo Merlot 2018
Aramic Alb de Silagi 2021
Pasetti Rachele 2021
Regina Istritei Tamaioasa Romaneasca 2017, dulce
Regina Istritei Tamaioasa Romaneasca 2021, dulce
X+Y Diferit Feteasca Regala, Sarba
Valea Ascunsa Sauvignon Blanc
Pivnita Savu Feteasca Regala
Domeniile Bohotin Sauvignon Blanc
Zaig Feteasca Alba, Muscat Ottonel, 2020
Crama Ratesti Traminer 2020
Domeniile Bohotin, Tamaioasa Romaneasca
Familia Vladoi Anca Maria Cabernet Sauvignon alb 2021
Pandora Secrets Rose FN CS 2021
Zaig Feteasca Neagra Rose 2021
Familia Vladoi Ion Vladoi Babeasca Neagra, Feteasca neagra rose, 2021
Vinarte Prince Mircea Rose d'Excellence 2021
Familia Vladoi Anca Maria Syrah, Cabernet Sauvignon, rose 2021
Domini Veneti Ripasso 2018
Moments 2021 Crama Mennini
Viniera Sescu Emotion 2021
Petrigh Refosco Extra Dry rose
Zaig Pinot Noir rose 2021
Crama Darie Strabun Roze 2021
X+Y Chardonnay 2021
Valea Ascunsa Feteasca Neagra 2020
Chateau Cristi, Bravoure 2018
Crama Aramic Rosu de Silagi 2019
Poem 2020 Bucium SA
Pripa Cabernet Sauvignon 2019
El Sauceral Estate La Perdosa 2016
Pandora Secrets Aligote 2021
Familia Vladoi Riesling 2020
Zaig Chardonnay 2020
Curtea Regala Aligote 2021
Crama Darie Strabun Tamaioasa Romaneasca
Domeniile Bohotin Busuioaca de Bohotin sec
Curtea Regala Feteasca Neagra 2020
Valeaeden Feteasca Neagra 2017
Dorvena Feteasca Neagra 2018
Cramele Bolgiu IAKOV 2018
Hefner Neusiedleresee DAC Zweigelt Reserve 2019
Hafner Kasmir 2018
Pripa Rara Neagra 2019
Tenuta Romana Prosecco DOC Extra Dry
Tenuta Romana Venustas Pinot Grigio 2020
Tenuta Romana Terre Siciliane Chardonnay 2021
Tenuta Romana Integritas Cuvee Bianco 2020
Daniel's Wine Feteasca Neagra 2020
Daniel's Wine Cavaliro Secreto
Tenuta Romana Fructositas Primitivo 2019 IGT