Madalina "Madi" Ioana Muscalu is an already established sommelier. She returned to Romania three years ago, after almost 15 years of experience in Venice, Italy. And, although she has run into the still perennial misogyny here, into the indifference of customers and the lack of collaboration between employees, she wants to stay in Romania and promote quality wines to anyone who is willing to spare a few minutes listening.

Interview with Madi Muscalu - sommelier
Wines of Romania: What does it mean to be a sommelier in Romania today?
Madi Muscalu: It's a long story, it can't be defined by a single word, but it comes with many responsibilities and difficulties, not just passion.
Wines of Romania: What is the difference between being a sommelier in Romania and being a sommelier in Italy, in Venice?
Madi Muscalu: Here, in Romania, you don't work in a team. The people do not know how to work as a team. I don't want to go into many details, but – to simplify – it's about the way the employee is paid. There is a lot of emphasis on "tips", because in Romania people in this field earn their living from tips and not from salary. If they could earn their living from their salary, they would be more united. Thus, they are forced to earn their living individually, because the salaries are not at the level of the European Community, although we are part of it.
This is eventually felt even at the customer's table and, obviously, between us, between colleagues, from the woman who washes the dishes to the sommelier, manager, chef or owne
Wines of Romania: How long did you work in Italy as a sommelier?
Madi Muscalu: 15 years, of which 11 in the same place. After I finished my studies, I had some experiences as a beginner, as usual, jobs for nine months – a year, then I settled in one place and stayed there for 11 years, at Osteria da Carla, at Carlo and at Michela's, whom I adore.
Wines of Romania: What did you learn, after the years spent in Italy, when you returned to Romania, three years ago?
Madi Muscalu: I discovered another reality, which I was not aware of outside of Romania. What I learned? To be tougher, stronger. The system itself according to which one works in horeca is very difficult. Being a sommelier doesn't just mean presenting yourself at the customer's table and presenting the history of a wine – that's if the customer gives you the opportunity, because in Romania I very rarely found people curious about wines, and it's quite strange. I mean yes, if they go to a wine tasting, where they pay a ticket, then they are curious, but not when they have a sommelier at hand, in the place where they go out for lunch or dinner…
Wines of Romania: Is it related to the fact that a culture of readily available sommeliers has not yet developed in restaurants?
Madi Muscalu: Yes, it is so. In our country, people consider that sommeliers work at wineries… They always ask me: "What winery do you work for?". I smile every time, respectfully, obviously, and tell them that a sommelier does not work in a winery, but in a structure in which several wineries are represented, where I have a more complex activity, that I do not favor any winery, that the wines mean passion and life… But here, in Romania, most of those who study or work with the wine are employees of a winery.
Wines of Romania: Since you have been in Romania, have you dealt with misogyny?
Madi Muscalu: Oh yes! Well, I'm just a damsel, you know?… God forbid, if you're young and if you're even a bit presentable, people look down on you. "Come on, what does this damsel want to tell us now, huh?". Yes, I have encountered it. And this considering that I am sporting a decent outfit, without long nails, fashionable accessories or a cleavage.
Wines of Romania: So nothing has changed? Because I encountered the same situation 7-8 years ago, when I returned… People did not give enough credit to any of the women who tried to present a wine or say something about a winery.
Madi Muscalu: Yes, and Iasi, where I live and work, is in the east of Romania, which is in the east of Europe… Some things are difficult to change. In Bucharest I did not meet such things, but it was also about another structure, a prestigious one, Kaiamo, where there are extraordinary, young, passionate people
Wines of Romania: What advice do you have for a person – man or woman – who wants to become a professional sommelier in a restaurant in Romania?
Madi Muscalu: First of all, to try to gain work experience outside of Romania, in order to understand how this work should really be carried out.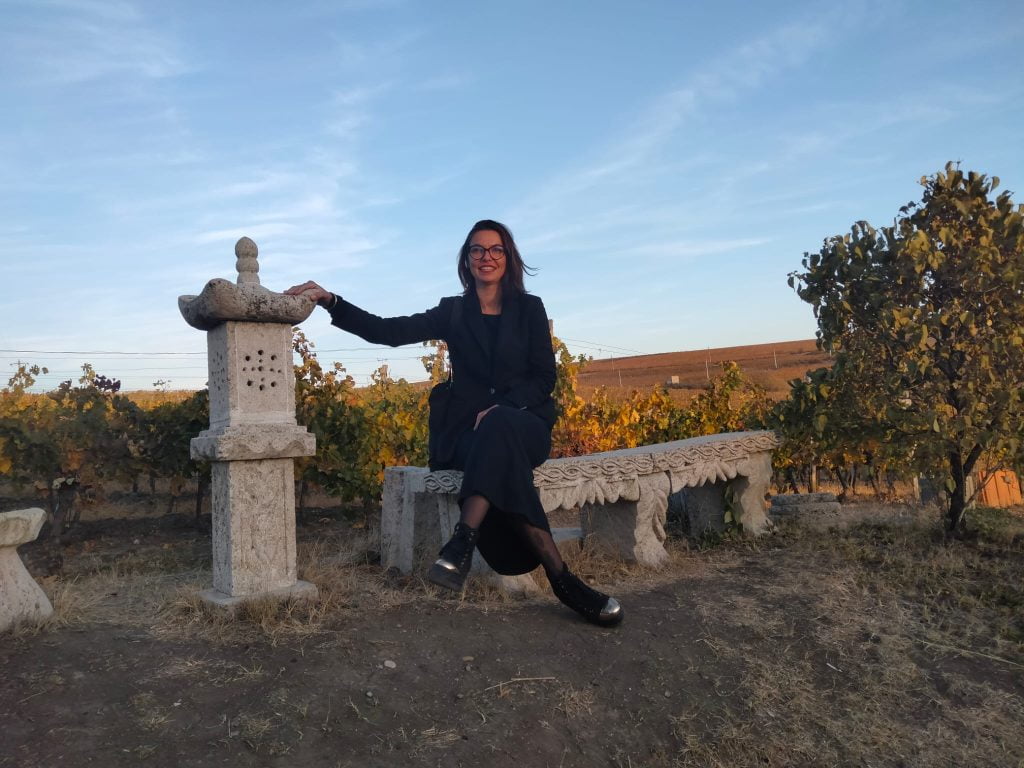 Wines of Romania: And those who can't, either because they don't have the connections or don't know the language, or for other reasons?
Madi Muscalu: They also have the opportunity to study here. I don't want to advertise, but there are OHMA hospitality academy courses, which take place under the umbrella of WinsedSwiss, one of the best hospitality schools in Europe and even in the world, if I'm not mistaken. But there is a lot to study and you have to be really passionate. On the other hand, if you are truly passionate and want to do things the right way, you will always find a way.
Wines of Romania: How do you see Romanian wine and its future?
Madi Muscalu: I think you can feel the determination of the Romanian producers to reach the podium, to obtain the recognition of a quality comparable to that of wines from abroad. And I am optimistic.
Wines of Romania: I happen to know that in Italy you always had a Romanian wine with you to show and taste. Don't you promote Romanian wine in Italy more than you manage to do here in Romania?
Madi Muscalu: Right. Being far from my homeland, I always wanted to show Romanian wines to the people of Venice and I remember that I brought many wines, including Anima Trei Fete Negre, and the reaction of my employer, Carlo, was "Mamma mia ! Who are these people who can afford to hold on to three harvests to make such a wine?". That is, it is a luxury to keep the wine that long, it is proof of financial potency. And the truth is that there are wineries with financial potential in Romania, and boutique wineries owned by truly passionate people, who do not have the same financial power…
Wines of Romania: What is your favorite variety?
Madi Muscalu: I like red varieties from cooler regions. The wines from Mount Etna, from the north of Italy… From Romania I noticed the Ferdi wines, where there are some interesting blends of Romanian varieties and international varieties, and Paul Fulea's wins at Crama Histria. Both are small wineries, with very passionate people!
Wines of Romania: In the end: do you have any advice for Romanians who are thinking of returning permanently to the country?
Madi Muscalu: To be bold, to be crazy, to have the courage to do the things they want and dream of. Anyway, you need a lot of courage to leave such a life behind, to give up comfort – but sometimes there is too much good and it starts to do harm, right? Some of us need challenges. If I had not returned, I would not have realized so many things, I would have had the same perspective on the world. Don't expect something easy, but dare, that would be my advice.